Tune in tomorrow (Saturday, September 8th) at 1pm to listen to a recent tour of historical Claremorris, which took place as part of heritage week.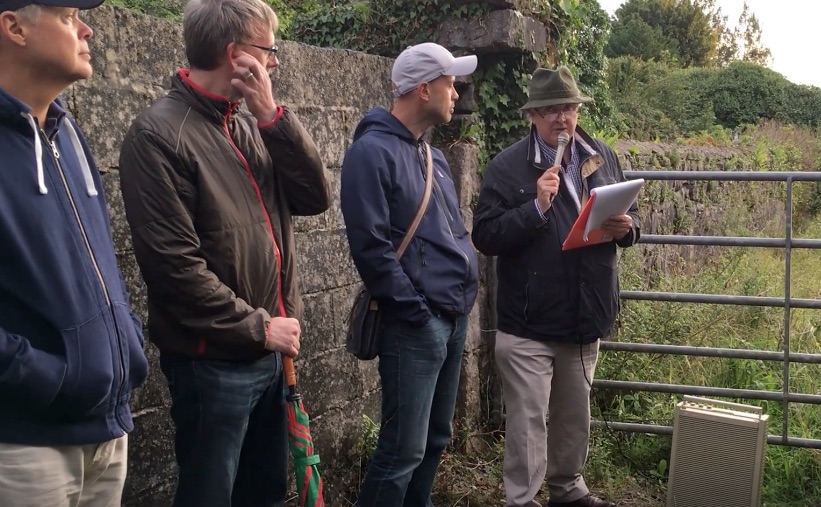 The tour, which was led by Pat Keane, brought the walking party through our town, a town that in the past featured at the heart of change and revolution. Buildings and people lead the narrative, from the lightening strike on St. John's Protestant church in 1828 to Rev James Hughes the caring pastor during the famine years. 
At other stops on the tour, Pat recounts the burning of the RIC Station during the Civil War; the occupied Claremorris with its 1,700 inhabitants and 6,000 billeted soldiers in training for the trenches of WW1 and an assault on the Foresters Hall  Sinn Fein meeting by some of those same soldiers which lead to a swift retreat to camp.
Then there's Cardinal Dalton, Jim McNabb, Jordan's Hotel, the Bianconi coach stop, Brett's and the custom stops; the Square, where Denis Brown hanged Richard Jordan and James O'Malley for their attack on the town in 1798.
The tour attendees also got to meet the Grays in Mount Street: John the surgeon, media mogul and MP who brought Dublin its first water supply; Wilson who founded a Land League in Victoria, Australia. Also on Bóthar Garbh the famed Irish language map maker, surveyed and collector of Irish literature.
Finally, the tour finishes with Hughes's and Nally's Hotels and the founding of the most revolutionary Ladies Land League by Anna Parnell in James Street, where there were once faction fights and visits by the most wanted man in the British Empire, John Devoy.  Here was started the National Land League, the Connaught GAA and, from here, left many crowds to protest their subjection.