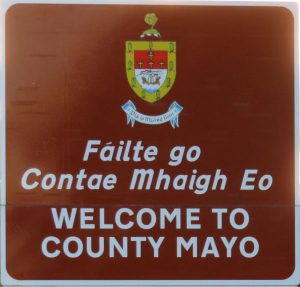 Tá clár nua seachtainiúil ag tonnú ar Radio Pobal Chlár Chlainne Mhuiris ag tosnú Déardaoin 22ú Feabhra ag 1.00pm agus athchraolaithe Dé Sathairn 7.00pm.
Clár irise is ea Beannachtaí an Lae. Gheobhaidh sibh blas de ghach short ann. Beidh togha an cheoil ann le béim ar leith ar cheol áitiúil. Cloisfear blúiríní eolais, altanna nuachta, cúrsaí reatha, piseogacht, stair, filíocht, cúinne don fhoghlaimeoir, cómhráití, logainmneacha, seanchas agus cuideachta.
Beannachtaí an Lae is a new magazine show on Claremorris Community Radio, featuring something for everyone, whatever your level of Irish. It will be presented by Pádraig Ó Catháin aka Pat Keane.
Beannachtaí an Lae will be broadcast on Thursdays at 1pm and repeated on Saturdays at 7pm.  The first show in the series will be broadcast tomorrow, Thursday 22nd.